---
How to Use Pixi-Stix
TM
---
1. Blow your nose gently, so that it is clear.
2. Wash your hands.
| | |
| --- | --- |
| 3. Grasp one of the crimped ends of a single Pixi-StixTM and shake rapidly in a side-to-side motion. [fig. 1] | |
4.Tilt your head back and open your mouth.
| | |
| --- | --- |
| 5. Tear open the free end of the stick and hold it just above your nose, then empty the correct number of crystals onto your tongue.[fig. 2] | |
6. DO NOT let the open-end of the stick touch the inside of your nose or mouth.

7. Keep your head tilted back for two to three minutes to help the crystals run to the back of your throat.

8. Repeat until tongue becomes fully-numb, or a maximum of

LD-50 has been consumed.
---
Store your Pixi-StixTM in a cool, dry place.
DO NOT use your Pixi-StixTM more often or for longer than you have been told. Some Pixi-StixTM must only be used for a short time and will stop working if used for too long.
If you are putting the Pixi-StixTM into a childs nose, it may be easier to make the child lie across your knee with his head hanging down.
When you have finished your course of treatment, throw any leftover Pixi-StixTM away, or return them to your pharmacist for disposal.
PIXI-STIXTM DO NOT KEEP
---
If you have any questions about your Pixi-StixTM or any other medicines, your pharmacist can help
ASK YOUR PHARMACIST. YOU'LL BE TAKING GOOD ADVICE
KEEP ALL MEDICINES OUT OF THE REACH OF CHILDREN
---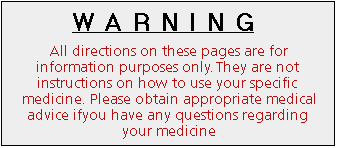 ---
This document has been produced with the inspiration (but absolutely NO co-operation) from
"How to Use Nose Drops"
.
©1997 - Eclipsing Suns Information Management - All Rights Reserved